This site uses cookies. By continuing to use this site, you are agreeing to our use of cookies.

Learn More.

Welcome to

Allied-Gaming

!
Allied-Gaming
Over the next couple of weeks I will be making some changes to the teamspeak 3. These changes include: Changes to permissions/powers of staff tags/ranks. A new layout system for tags in the server group. Changes to the channel ranks/powers. Changes to staff once the perms/powers have been changed. Changes to the rules/guidelines of ts3. Changes to the channel layouts in the ts3. Adding/Removing channels. Adding/Removing Tags.
Additional changes may be made/added as I go through this process. I will try my best to update this thread as I make changes to keep all of you aware of the changes.
This thread needs to stay legit and not full of trolls. Members found trolling/lying on this thread may be punished for doing so.
The first thing I will be working on is the layout of the server tags. As you can see from my screenshot below I will be adding spacer tags to allow staff to easier identify who own's which private tag and how many tags one person has.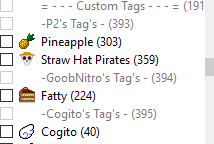 In order to do this, I am going to need help identifying who owns which tags. This means we are going to need everyone's help to make sure the right person is given ownership of their tag and not someone else. If you currently have your own private tag in ts3 I need you to make a post on this thread using this layout:
Forum Username:
TS3 Username:
Personal Tag Name/Icon:
Evidence To Support That Is Your Tag:
(This could include a forum post if won from an event, at least 3 other people agreeing that is your tag, a higher-up staff vouching for you, etc.)
Why Do You Deserve To Keep This Tag:
If you own multiple personal tags I would like you to make a separate post for each tag using the same layout up above. If you own a personal tag but are not sure how to prove that it is your tag, please come to
@GoobNitro
on TS3 and talk to me personally.
ANY TAG THAT GOES...
We have added a new plugin called

AG Blackmarket



This is a shop for Terrorists which gives them a cool buy menu to help them

REBEL!
Some of the features of the plugin are:

Invisibility!
Throwing Knives!
Enhanced Speed!
Double Jump!
1 Hit Knife!
Low Gravity!

There are more cool things to purchase as well!
To purchase things from
AG Blackmarket
, just type (during the buy time)
!blackmarket
or
!bm
AG Blackmarket
uses
its own point system
(called cigarettes)
. So that make sure you get on Jailbreak to start earning your points ASAP!

The Normal AG Point System is still in effect as well.
We hope you enjoy this new addition to Jailbreak!
​
Yesterday we were informed that one of the addons on DCRP was not working correctly. It has been fixed but we had to roll back the server. If you are missing your rank ingame please get a hold of
@Gandalf The Green
or me for your rank. Because this was a roll back the server we will not be refunding more than $5,000,000 of your ingame money. The best way to get a hold of Gandalf The Green or I is to message us on Steam if you don't have are steam then you can start a conversation with us on forms and we are on ts most of the day.