Allied-Gaming
Good evening everyone,
Firsthand, this is a serious post and
trolling will

not

be tolerated.
I'd like to inform you all about an ongoing situation concerning a steam user by the name of
Tucker
. For the past 3 months or so this user randomly friended one of AG's members with no prior meeting or communication. Soon after, Tucker began to DDoS this member multiple times. In total, Tucker has managed to send multiple DDoS attacks to 4 of our members.
However it didn't stop there.
Tucker got ahold of one of our member's private information, and then proceeded to blackmail this member into handing over the equivalent of
$600 US Dollars
over the course of 3 months. Not only that, but Tucker then spread multiple victim's private information on another AG member's profile, and also made the same private information as his steam description. On top of all that, he has also tried to impersonate one of AG's members as well.
After informing GoobNitro and myself, action has been taken and this user is now Permanently Blacklisted. Not only that, but we've cut off all ties of communication with this user as well.
I cannot stress enough how important it is that you be extremely cautious with adding unknown users on steam
, as you never know who you can and cannot trust over the internet. Not only has Tucker targeted members from Allied-Gaming, but has also targeted various users all via steam.
Never click links from people you do not know.
​
Again, I'd advise all of you to proceed carefully with those you add on steam, and if necessary you may read...
CS:GO

T

T

T

Staff Meeting

This Sunday

(7/2/17) @

4:00 pm EST





Topics:



Staff Activity

RePopulation

Events Ideas
(come to the meeting with some ideas for events)



Map Ideas


(come to the meeting with some map suggestions)

Promotions / Demotions

Other Suggestions
(if you have any other suggestions, please be prepared to share them!)

This meeting is Mandatory! If you cannot make it message @Subsy or I ASAP!


​
Over the next couple of weeks I will be making some changes to the teamspeak 3. These changes include: Changes to permissions/powers of staff tags/ranks. A new layout system for tags in the server group. Changes to the channel ranks/powers. Changes to staff once the perms/powers have been changed. Changes to the rules/guidelines of ts3. Changes to the channel layouts in the ts3. Adding/Removing channels. Adding/Removing Tags.
Additional changes may be made/added as I go through this process. I will try my best to update this thread as I make changes to keep all of you aware of the changes.
This thread needs to stay legit and not full of trolls. Members found trolling/lying on this thread may be punished for doing so.
The first thing I will be working on is the layout of the server tags. As you can see from my screenshot below I will be adding spacer tags to allow staff to easier identify who own's which private tag and how many tags one person has.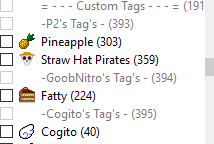 In order to do this, I am going to need help identifying who owns which tags. This means we are going to need everyone's help to make sure the right person is given ownership of their tag and not someone else. If you currently have your own private tag in ts3 I need you to make a post on this thread using this layout:
Forum Username:
TS3 Username:
Personal Tag Name/Icon:
Evidence To Support That Is Your Tag:
(This could include a forum post if won from an event, at least 3 other people agreeing that is your tag, a higher-up staff vouching for you, etc.)
Why Do You Deserve To Keep This Tag:
If you own multiple personal tags I would like you to make a separate post for each tag using the same layout up above. If you own a personal tag but are not sure how to prove that it is your tag, please come to
@GoobNitro
on TS3 and talk to me personally.
ANY TAG THAT GOES...